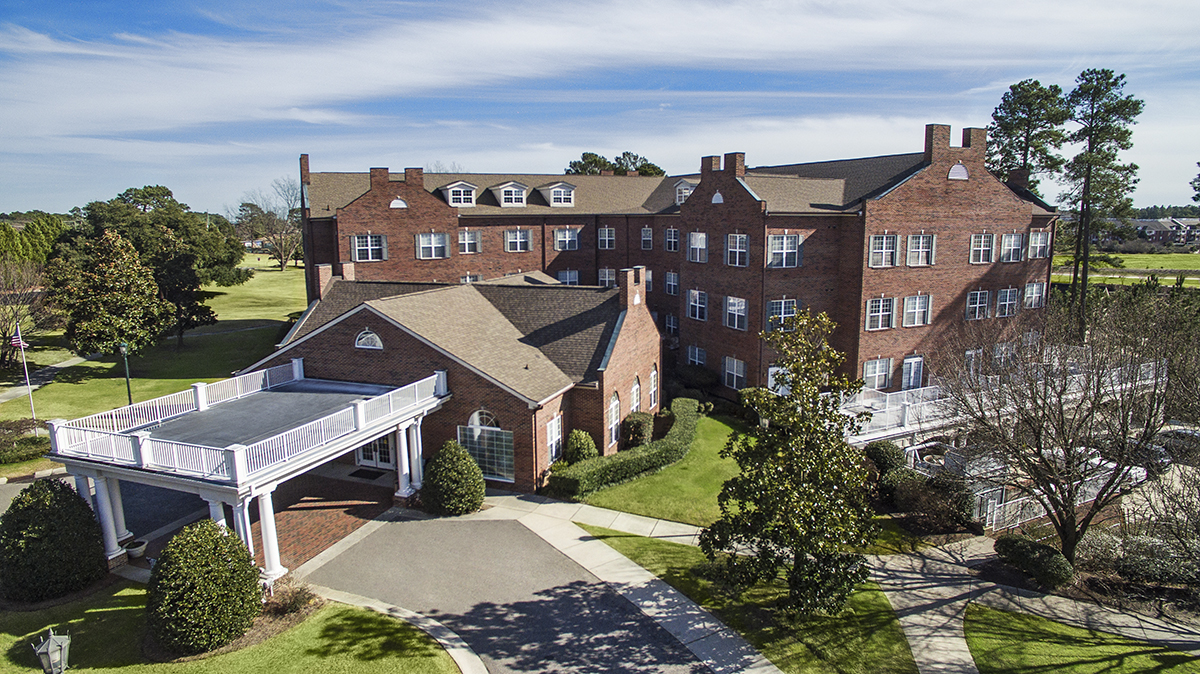 15 Mar

The Carolina Inn Offers Affordable Luxury For Seniors Seeking Assisted Living

When it comes to senior living in North Carolina, numerous options are available. Why not choose the one that offers a welcoming ambiance, an exceptional level of care proven over two decades, and comfortable residences with monthly lease options and no high entrance fees?

All this—and more—can be found at The Carolina Inn. The assisted living community is in the heart of Fayetteville, an All-American city rich in history and celebrated for its southern hospitality. The property is nestled within the 100-acre Village Green neighborhood, an idyllic oasis that greets everyone with stately trees, rolling hills and tranquil water vistas. Despite its secluded setting, Village Green is close to doctors' offices and medical services with Cape Fear Valley Hospital less than one mile away. Fort Liberty and the PX are nearby as are shopping, dining and day spas as well as arts and entertainment in downtown Fayetteville. Bringing together access to a continuum of care, Village Green also features independent living in The Carolina Highlands, skilled nursing and rehab—making the neighborhood a senior living destination.

Thanks to a strong local employment pool, The Carolina Inn attracts top caregivers allowing it to provide the highest nurse-to-resident ratio for assisting living communities in the area. This translates into unsurpassed person-centered care that puts each resident's needs first—whether someone requires just a little assistance with daily activities or more hands-on support with tasks such as personal hygiene and dressing. The Carolina Inn has nurses on each floor and staff is available around the clock to deliver health services to residents, including medication management and monitoring along with first aid. Additional services such as diabetic care, podiatry, and lab resources are available as needed and every resident is equipped with a 24-hour emergency response system.

"There's a reason The Carolina Inn has been Fayetteville's sought-after assisted living community for two decades," said Jared Fryer, president of Village Green Real Estate and Development. "We understand North Carolina seniors have set a standard where consistently exceeding expectations is the norm. We always have—and continue to—make the well-being of our residents paramount."

This exceptional level of thoughtfulness is evident in everything at The Carolina Inn…from caregivers who treat everyone like family to locally sourced restaurant-quality meals. To encourage independence and help residents stay active and engaged, Life Enrichment programs are available to stimulate the mind, body and spirit. Additional amenities such as concierge services, a salon, housekeeping and laundry, transportation, and more make residents feel like they're staying in an exclusive boutique hotel every day.

"No other assisted living community in North Carolina provides all the comforts of home in a safe and caring resort-style setting like The Carolina Inn," said Fryer.

As a rental community, The Carolina Inn offers monthly lease options and a selection of furnished and unfurnished, one- and two-bedroom senior living apartments to fit a variety of budgets and lifestyles.

To see available residences and tour The Carolina Inn, schedule a one-on-one visit by logging onto www.CarolinaInnNC.com or calling (910) 501-2271.

Read the original article HERE.