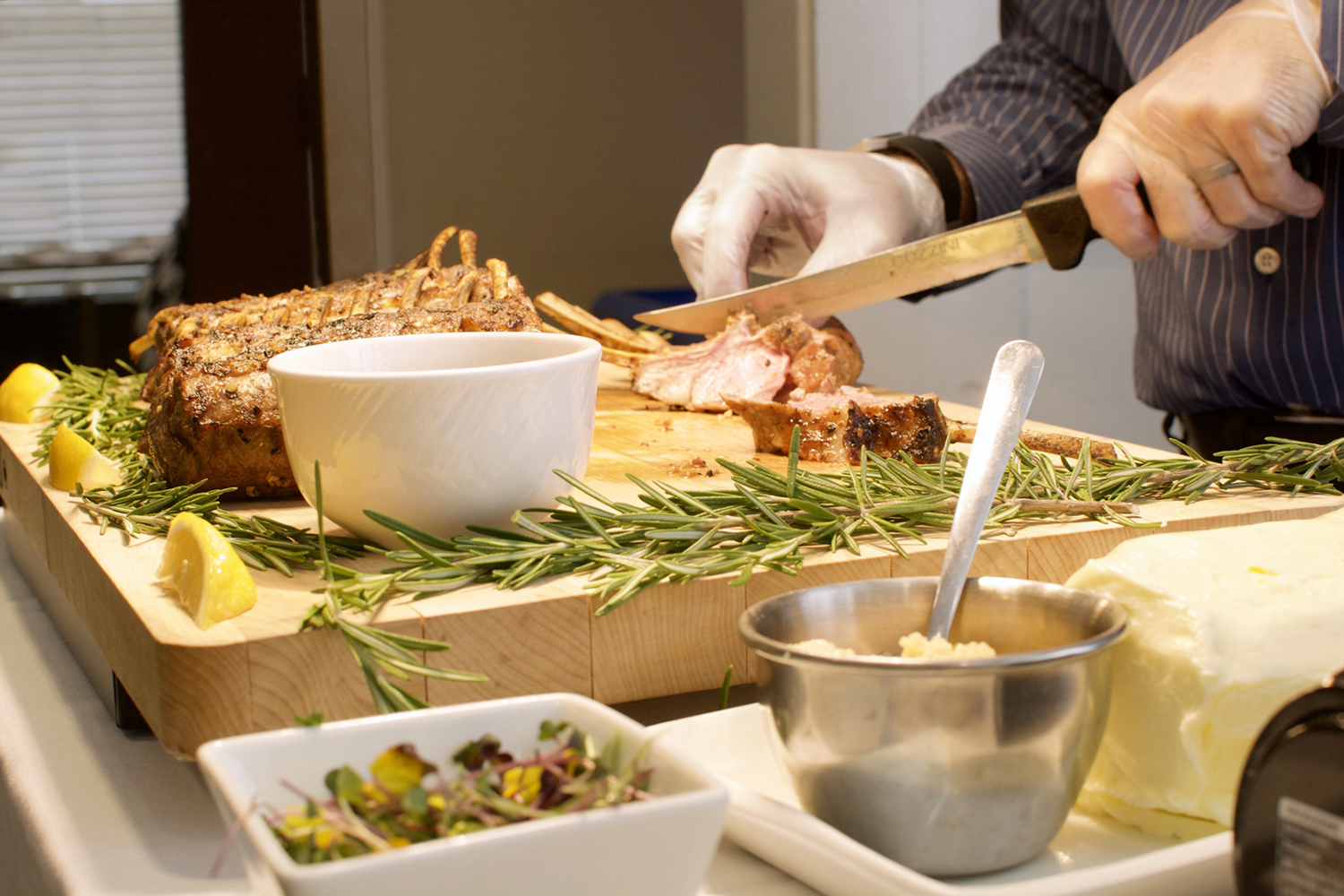 13 Aug

New Dining Experiences Draw Residents To The Carolina Inn

(Fayetteville, North Carolina)—The Carolina Inn, Fayetteville's premier senior assisted living community, has a new dining program that offers freedom of choice.

"Proper nourishment helps our seniors thrive and enhances their quality of life," said Brad Itzkowitz, director of dining services at The Carolina Inn. "However, we understand that everyone has unique tastes and nutritional needs so we recently updated our menu ordering technology to provide personalized dining experiences."

For example, chefs not only offer basic preparations that are low salt or sugar-free or they can turn up the spice for those who prefer it. Choices abound for appetizers, entrees, vegetables, breads or starches, and desserts, and the culinary staff works with residents and their families to make sure each person's dining preferences are met.

Three meals a day are included at The Carolina Inn and can be enjoyed in the main dining room, which echoes a four-star restaurant with impeccable service and attention to detail. Or, residents may choose the more casual ambiance of the Sky View Bistro.

"We offer an all-day dining menu loaded with soups, salads, sandwiches, fruits, and desserts," said Itzkowitz. "And, if someone prefers to dine in their room, we feature a room service option with the same menu options from the dining rooms. The room tray resembles one at the Ritz Carlton, complete with crystal salt and pepper shakers and a flower vase."

Although it changes daily, The Carolina Inn's diverse menu always has a classic southern flair. Hearty dishes such as roasted pork tenderloin and Yankee pot roast are combined with fresh, in-season fruits and vegetables for delicious…as well as healthy… selections.

Itzkowitz has transformed seasonal meals to feature North Carolina's wonderful local produce along with fresh herbs and vegetables from the community's on-site greenhouse.

"The ability to walk outside and cut fresh basil from our garden to use in our marinara sauce adds freshness and bold flavors to our recipes," he said. "We also grow squash, zucchini, tomatoes, eggplant, and even watermelon."

Fresh strawberries, peaches, cantaloupe, corn, and cucumbers are brought in from local farms throughout the summer. In the winter months, local collard greens and sweet potatoes are featured.

In addition to incorporating fresh, seasonal and local ingredients into its menus, the Carolina Inn also provides a weekly "Happy Hour" featuring chef inspired tapas, cocktails and craft beer.

"For many, happy hour is the highlight of the week," said Itzkowitz. "It allows residents and families to gather, experience great food and live music, and socialize."

The culinary team at The Carolina Inn prepares monthly cooking demonstration events that provide a sensory experience, as well. International cuisine is prepared in the dining rooms for all to see, smell and hear.

"Our residents want great tasting simple food, but it must always be prepared correctly," he explained. That's why Itzkowitz is using his culinary degree and 30-plus years in the dining industry to continuously develop talent and mentor cooks to follow proper culinary techniques.

The new dining experiences have been a major draw for The Carolina Inn, where only a few residences remain for rent. Furnished and unfurnished one- and two-bedrooms apartments currently are available.

The Carolina Inn offers a resort-style ambiance and round-the-clock senior care in a boutique assisted living community with the highest licensed nursing-to-resident ratio in the area. Thanks to 24-hour person-centered care, residents receive help with daily activities…as much or as little as needed. They also can participate in life enrichment programs, social and educational events, and wellness activities.

"At The Carolina Inn, we've established an unparalleled tradition of customized care, putting the needs of each resident first with dedicated support and programs that encourage independence," said Jared Fryer, president of Village Green Real Estate and Development.

The Carolina Inn is located in the heart of the Village Green neighborhood, the senior living destination in Fayetteville. Village Green offers access to a continuum of care with independent living in The Carolina Highlands, assisted living at The Carolina Inn, and skilled nursing and rehab. Both The Carolina Highlands and The Carolina Inn are operated by Village Green Real Estate and Development.

Spanning 100 acres, Village Green is an intergenerational community boasting mature tree lines, rolling hills, water vistas, and a secluded ambiance. At the same time, the neighborhood is close to doctors' offices and medical services with Cape Fear Valley Regional Hospital less than one mile away. Fort Liberty and the PX are nearby as are shopping, dining, arts and entertainment in downtown Fayetteville.