04 Jan

First Residents At The Carolina Inn Receive COVID-19 Vaccine
Assisted Living Community In Fayetteville, North Carolina Partners With CVS To Administer Moderna Vaccine To Senior Residents
(Fayetteville, North Carolina)—Vaccinations at The Carolina Inn in Fayetteville, North Carolina began Sunday, January 3, as residents received their first doses of the Moderna COVID-19 vaccine.
While the assisted living community has recorded zero cases of COVID-19 since the pandemic began, The Carolina Inn's staff is thankful for the opportunity to offer this extraordinary safety measure to one of the most at-risk segments of the population: seniors.
"Providing a superior level of care has always been the hallmark of The Carolina Inn," said Jared Fryer, president of Village Green Real Estate and Development. "Having the ability to vaccinate all our residents who choose to do so enhances everyone's safety and helps bring us one step closer to normalcy."
Second dosages of the Moderna vaccine have been scheduled for later this month. Plus, a third installment is planned so residents who did not opt to receive the first shots can still receive two doses by the end of February.
"Because of the uncertainty surrounding COVID-19, some seniors have been reluctant to move," said Fryer. "With vaccinations underway, there's no reason to wait. New residents can feel confident in our community's safety and receive the person-centered care they need—now."
Assisted living residents such as those at The Carolina Inn are among the first groups to receive the COVID-19 vaccine as part of North Carolina's COVID-19 vaccination plan. As a result, seniors who move into the community in January may be immunized weeks—possibly months—before those living at home.
At The Carolina Inn, CVS is the pharmacy partner in the Pharmacy Partnership for Long-term Care Program. According to the CDC, the program was created to facilitate safe vaccinations to a critical population and provide end-to-end management of the process. CVS will:
schedule and coordinate on-site clinic dates;
provide vaccines and associated supplies;
ensure cold chain management for the vaccine;
administer vaccines on-site to residents and staff;
report required vaccination data to the local, state/territorial, and federal jurisdictions within 72 hours of administering each dose; and
adhere to all applicable CMS COVID-19 testing requirements.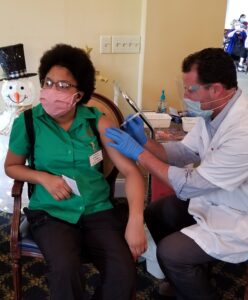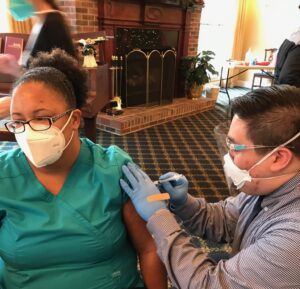 Preserving the health and well-being of its residents is of the utmost importance at The Carolina Inn, which has garnered a reputation for unparalleled senior care for more than 20 years.
With the highest licensed nurse-to-resident ratio of assisted living communities in the area, The Carolina Inn has nurses on each floor and staff is available around the clock. Every resident is equipped with a 24-hour emergency response system, and services such as diabetic care, podiatry, and lab resources are available as needed.
The Carolina Inn offers a range of care levels. Trained professionals have the experience to recognize how much…or how little…support someone requires so they can provide just the right amount of assistance. Caregivers help residents with daily activities, personal hygiene and dressing, and medication management and monitoring. Nutritious meals are also included.
To schedule an in-person or virtual tour of The Carolina Inn, log onto www.CarolinaInnNC.com. Or, call (910) 501-2271.